There's no denying the biological reaction we get from food. Certain foods satisfy us for shorter periods, resulting in consuming more food and gaining weight. This is common knowledge.
What's not common knowledge, or at least not practiced as much as exercise, is the use of willpower. It's tough to break the cycle of turning to food that doesn't satiate you, but using that metaphorical muscle known as willpower – warning, this is not the same for those who have been diagnosed with a food addiction, that's a whole different psychological ball game.
Today, I practiced my willpower. To start the day, I had water. I had a doctor appointment, and I don't know about you guys, but if my body is getting checked out, I don't feel too hungry until I've had my peace of mind from the appointment. "Oh, I'm good to go? Groovy, time for an avocado salad, thank you!"
Luckily my appointment was early enough in the morning that I didn't have to worry too much about hunger. After my appointment it was time to get groceries, but my husband and littlest kiddo were hungry, so where did they go? Oh, just Dunkin' Donuts. No big.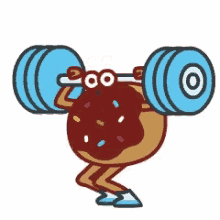 Did the donut queen have any, though? No, I did not. And it's not exactly that I didn't want a donut… but I didn't feel a particular necessity to get one. In recent months, I would have been on top of it, but after analyzing my erratic food behavior (restrict for awhile, go ham one day, eat at maintenance the next, etc.), I was able to ascertain what my body needed and legitimately craved. What I really needed to do was break the habit of being irregular with my food habits!
For one, I wanted a soy chai latte, because those drinks are delicious and don't upset my stomach the way coffee and espresso have lately. After grocery shopping, we stopped at Starbucks and headed home. 310 kcals and 60g of carbs! Usually that would be way too much for me in a single sitting, but ya girl needed the energy, let me tell you!
The grocery shopping itself went so smoothly. I mean, we spent about an hour and a half getting everything (or at least almost everything) we needed, so we got some good movement in. Though I still have a leg workout and my kitchen cardio to do!
Yesterday, even, I was surprised at how smart I was being with my food choices – because I kept my goal in mind. My birthday is tomorrow and I have a feeling the pizza I have picked out, won't even be entirely annihilated, not by me anyway.
Building that willpower, making better choices, staying active – all comes from the amount of effort you put into it. You can't expect to build deltoids by sitting at a computer all day, nor can you burn fat by doing nothing. It takes dedication, and what's helping me is keeping that end goal in my line of sight. AT. ALL. TIMES.